Captain Bob Hovey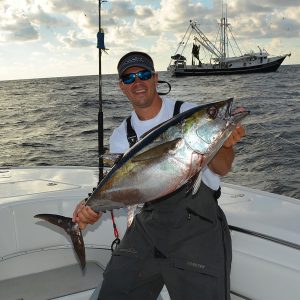 I grew up a Florida boy fishing the southeast coast of Florida and the Keys. During my 12 year career, I have fished cobalt blue water off of every state along the East Coast and down along the Gulf.  I have guided blue fin tuna trips off Cape Cod and fished sailfish tournaments down in Miami and the Keys.  
I found myself in Venice, Louisiana a few years ago and have discovered it is truly one of the top fishing destinations in the United States. The variety of fish you can catch in a single day is like no where else. I have been blue water fishing since I could skip school and Venice is hands down, where I belong. 
"My soul and passion resides in off-shore fishing! I have seen breathtaking sunrises, caught some amazing fish, and created unforgettable memories. Nothing in this world makes me happier than sharing my passion with others!" – Captain Bob Hovey
Today, Louisiana Bluewater Charter Company proudly provides guided fishing trips for everything from in-shore day trips to multi-day off-shore charter excursions. With our top-of-the-line Freeman boats, industry-leading gear, local knowledge, and experienced fishing guides, there's no better choice for fishing charters out of Venice. Whether you're a seasoned fishing pro looking for some local guidance, or you've never held a fishing reel in your life, Bob and the rest of the Louisiana Bluewater Charter team are ready to show you the bounty of Louisiana's Gulf waters! Choose your charter trip, schedule your stay, and pack your bags. Let's hit the waters and catch some fish!